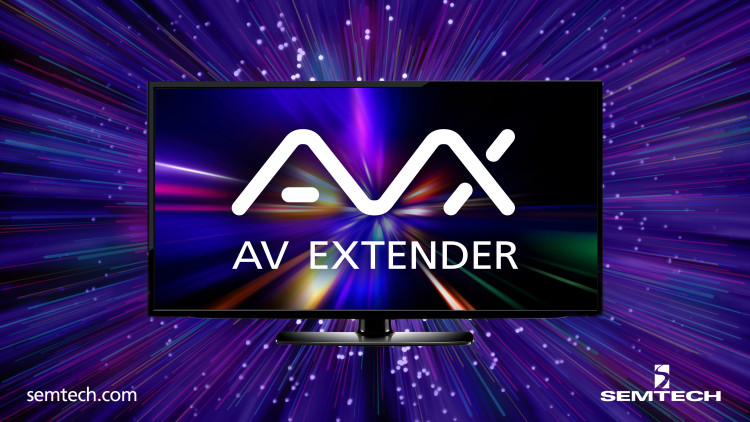 Arnouse Digital Devices, Corp. Selects Semtech's AVX200T for HDMI Extender Product Line
AVX solution extends high quality, uncompressed 4K60 video for ADDC's secure thin client products offering VDI
CAMARILLO, Calif., May 6, 2021 – Semtech Corporation (Nasdaq: SMTC), a leading supplier of high performance analog and mixed-signal semiconductors and advanced algorithms, today announced Arnouse Digital Devices Corporation (ADDC), a leader in small form factor pluggable computing, has integrated Semtech's flagship AVX extender ASIC, the AVX200T, into ADDC's secure thin client product line, SR10-FDD and SR20-FDD. Both ADDC products utilize Semtech's AVX200T fiber-based solution to offer increased security that is not possible when using copper, as well as high-quality, uncompressed 4K60 video for a wide variety of applications and in sectors spanning retail, banking, hospitality, and government.
With potential security risks associated with physical access to hard drives, storage and components, the ADDC SR10-FDD and SR20-FDD are ideal to provide security of sensitive data in a remote location, while providing the end user with high quality video and audio via Semtech's AVX200T extender. The SR10-FDD is a standard 19" 2U, 16" deep rack drawer incorporating a bare metal Virtual Desktop Infrastructure (VDI) that consolidates up to 10 local desktop computers with sensitive data, while the SR20-FDD can incorporate up to 20 local desktop computers. The inclusion of Semtech's AVX200T solution enhances the quality of the products providing uncompressed quality ultra-high-definition (4K) video, multi-channel audio, 480Mb/s USB2.0, and other control signals on a single copper category cable or optical fiber.
"Today's business ecosystem necessitates the security of sensitive data," said Michael Arnouse, chairman and CEO of ADDC. "This collaboration between ADDC and Semtech for the SR10-FDD and SR20-FDD incorporating Semtech's AVX200T is unmatched as the thin client data remains secure without sacrificing the end user experience, with the highest quality of video."
Semtech's AVX200T device provides high levels of performance for AV extension applications, such as standalone point-to-point cable extenders, matrix switches and KVM extension. As the Pro AV industry moves to optical fiber infrastructure for many applications, the AVX200T uniquely targets long reach extension, providing transport over fiber from distances 300m to over 40km — pushing the envelope on multimedia connectivity between AV equipment and remote displays
ADDC's SR10-FDD and SR2-FDD product lines incorporating Semtech's AVX200T can be used in a variety of industries and functions, including:
Healthcare Data Management: HIPAA compliance for secured patient data
Retail Point-Of-Sale: Separates sensitive credit card data from store/kiosk associates and customers
Government Thin-client Applications: Preventing the downloading of controlled sensitive information
Physical Branch Banking Thin-Client: For tellers and branch managers/client relations associates
Hospitality: Front desk compute for guest check-in
"Teaming with ADDC for the launch of its secure thin clients with Semtech's AVX200T technology highlights the increasing demand for AV extension solutions," said Don Shaver, vice president of marketing of video products for Semtech's Signal Integrity Products Group. "The resulting high quality, uncompressed 4K60 video from our solution demonstrates Semtech's commitment to continually moving the needle in the Pro AV industry."                                                                                                  
To learn more about Semtech's Professional AV products, visit here.
关于 Semtech
Semtech Corporation is a leading supplier of high performance analog and mixed-signal semiconductors and advanced algorithms for infrastructure, high-end consumer and industrial equipment. Products are designed to benefit the engineering community as well as the global community. The Company is dedicated to reducing the impact it, and its products, have on the environment. Internal green programs seek to reduce waste through material and manufacturing control, use of green technology and designing for resource reduction. Publicly traded since 1967, Semtech is listed on the NASDAQ Global Select Market under the symbol SMTC. For more information, visit www.semtech.com.
About Arnouse Digital Devices Corporation
Arnouse Digital Devices Corporation (ADDC) is the inventor and manufacturer of the X86 credit card-sized computer - part of a revolutionary and environmentally friendly compute platform. Its interchangeability gives users an unprecedented level of flexibility, compute power, small size, ultra-high security, and low power-usage. Currently, ADDC operates from three locations on the east and west coasts. ADDC has been granted 24 utility patents, with several pending in the areas of pluggable computing and the surrounding ecosystem. ADDC is fully committed to provide the world's best computing solutions for traditional and harsh environments that enable people, governments and businesses to excel in productivity with minimal harmful e-waste and a smaller carbon footprint. All ADDC products are proudly made in the USA. More information can be found at www.addc.net.
前瞻性声明和警戒性声明
本文所包含的非历史事实声明的所有声明(包括使用"旨在"或其他类似词语或表达的声明、描述 Semtech Corporation 或其管理层的未来计划、宗旨或目标的声明)均属于"前瞻性声明",并且该等声明均根据经修订的 1995 年《私人证券诉讼改革法案》安全港规定作出。 此类前瞻性声明涉及已知和未知的风险、不确定性以及其他可能导致 Semtech Corporation 的实际结果与历史结果和/或该等前瞻性声明所明示或暗示的任何未来结果或成果有重大区别的因素。Semtech Corporation 的年度和季度报告以及提交给美国证券交易委员会 (www.sec.gov) 的其他文件或报告中对这些因素作了进一步说明,其中包括但不限于"管理层对财务状况和经营成果的讨论和分析"和"风险因素"标题下的信息。除非法律要求,Semtech Corporation 没有义务更新任何前瞻性声明,以反映发布日期之后可能发生的事件或情况。
Semtech 和 Semtech 徽标是 Semtech Corporation 或其附属公司的注册商标或服务标志。
SMTC-P
###