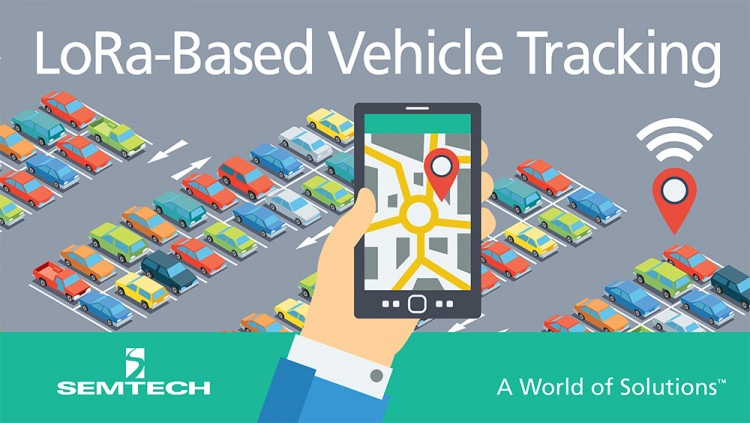 Semtech's LoRa Technology Integrated By Brazilian Vehicle Tracking Manufacturer
Maxtrack develops LoRa-based asset tracking solution to recover stolen property
Camarillo, California - April 19, 2017 -
CAMARILLO, Calif., Apr. 19, 2017 – Semtech Corporation (Nasdaq: SMTC), a leading supplier of analog and mixed-signal semiconductors, announced that Maxtrack, a leader in vehicle tracker manufacturing, has chosen Semtech's LoRa® devices and wireless RF technology ("LoRa RF Technology") as the main platform for its tracking solution that helps recover stolen vehicles and cargo.
The tracking system has been introduced in metropolitan areas of Brazil where LoRaWAN networks are currently being deployed. The aftermarket tracking solution is currently a preferred technology for insurance companies to recover vehicles as they plan implementation in mid-2017.
LoRa Technology provides a long-range, low-power wireless platform that enables the connectivity of Internet of Things' (IoT) gateways and sensors. The integration of LoRa Technology provides Maxtrack's customers with extended communication that reach beyond cellular networks and reduce the customer's total cost of operation (TCO).
"Semtech's LoRa Technology helps differentiate us from our competitors' solutions," said Gustavo Travassos, Chief Executive Officer at Maxtrack. "The key benefits, including reducing the total operation cost, minimizing the device size and simple installation, has allowed us to better support our customers with a superior tracking solution that they need."
"This use case for automobile applications demonstrates LoRa Technology's ability to easily track valuable assets," said Vivek Mohan, Director of Marketing for Semtech's Wireless and Sensing Products Group. "With the growth of smart cities and asset tracking applications, LoRa Technology is solving real-life problems with leading technology while also improving operations and efficiencies for solution providers."
Key Features of LoRa Technology:
Long Range: A single base station using LoRa Technology enables deep penetration capability for dense urban environments and indoor coverage, while also providing the ability to connect to sensors more than 15-30 miles away in rural areas.
Low Power: The LoRaWAN protocol was developed specifically for low power and enables unprecedented battery lifetime of up to 20 years depending on the application.
Geolocation: Enables tracking applications without GPS or additional power consumption.
Low Cost: LoRa Technology reduces up front infrastructure investments and operating costs, as well as end-node sensor costs.
Open Standard: The LoRaWAN protocol ensures interoperability among applications, IoT solution providers and telecom operators to speed adoption and deployment.
资源
About Maxtrack
Maxtrack 是巴西本土公司,由 Group MXT Holding Company 于 1999 年创立。 该公司是汽车跟踪解决方案领域的先驱,产品具备高质量和多样化等优势,知名度和声誉远扬亚洲、欧洲和拉丁美洲。 Maxtrack 负责提供智利圣地亚哥和阿根廷萨尔塔全部公交车队中安装的监控系统。 Maxtrack 是巴西国内唯一一家生产并在跟踪设备中使用自有调制解调器的公司,并且其还拥有内置无线通信解决方案,可实现安全、实用且有效的应用。
关于 Semtech
Semtech Corporation is a leading supplier of analog and mixed-signal semiconductors for high-end consumer, enterprise computing, communications, and industrial equipment. Products are designed to benefit the engineering community as well as the global community. The Company is dedicated to reducing the impact it, and its products, have on the environment. Internal green programs seek to reduce waste through material and manufacturing control, use of green technology and designing for resource reduction. Publicly traded since 1967, Semtech is listed on the Nasdaq Global Select Market under the symbol SMTC. For more information, visit www.semtech.com.
前瞻性声明和警戒性声明
All statements contained herein that are not statements of historical fact, including statements that use the words "plan," "designed to," or other similar words or expressions, that describe Semtech Corporation's or its management's future plans, objectives or goals are "forward-looking statements" and are made pursuant to the Safe-Harbor provisions of the Private Securities Litigation Reform Act of 1995, as amended. Such forward-looking statements involve known and unknown risks, uncertainties and other factors that could cause the actual results of Semtech Corporation to be materially different from the historical results and/or from any future results or outcomes expressed or implied by such forward-looking statements. Such factors are further addressed in Semtech Corporation's annual and quarterly reports, and in other documents or reports, filed with the Securities and Exchange Commission (www.sec.gov) including, without limitation, information under the captions "Management's Discussion and Analysis of Financial Condition and Results of Operations" and "Risk Factors." Semtech Corporation assumes no obligation to update any forward-looking statements in order to reflect events or circumstances that may arise after the date of this release, except as required by law. Semtech and the Semtech logo are registered trademarks or service marks, and LoRa and LoRaWAN are trademarks or service marks, of Semtech Corporation and/or its affiliates.
SMTC-P
###