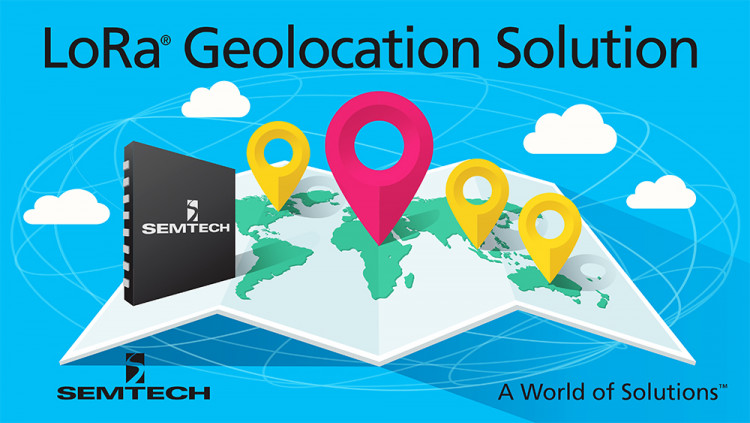 Semtech's LoRa® Geolocation Solution for Low Power Wide Area Networks is Now Available
First-to-market geolocation solution adds GPS-free tracking capability to LoRaWAN™ networks
Camarillo, California - June 30, 2016 -
Semtech Corporation (Nasdaq: SMTC), a leading supplier of analog and mixed-signal semiconductors, today announced the addition of GPS-free geolocation capability to its LoRa® wireless RF solution for Internet of Things (IoT) applications at Mobile World Congress Shanghai. The added feature is compatible with all existing LoRaWAN™ end nodes and the version two LoRaWAN gateway infrastructure reference design announced by Semtech earlier this year.
Multiple gateway manufacturers have implemented the LoRa geolocation reference design since its introduction in March 2016, and initial deployments are starting now with large-scale deployments expected for the second half of 2016.
"We project fifteen billion connected devices by 2020," said Emil Berthelsen, Principal Analyst at Machina Research. "Of those billions of devices, over half will include geodata and about one-third will critically depend on it."
The LoRa geolocation solution is positioned to serve this need by offering extremely power efficient, GPS-free location capability for a wide variety of markets, including automotive, logistics, consumer, insurance, agriculture, construction and others.
"This is an exciting enhancement to our already proven LoRa wireless RF solution," said Jaap Groot, Vice President of System Business Development for Semtech's Wireless and Sensing Product Group. "In order to serve the expected needs of companies using LoRa, our team developed groundbreaking technology to leverage the full potential of IoT. Adding geolocation to end nodes without increasing the bill of material or draining the batteries should open up a new arena of use cases and is expected to drive substantial revenue streams for LoRaWAN network operators."
Semtech's LoRa geolocation solution is enabled by version two LoRaWAN gateways that share an accurate, common time base and add an ultra-high resolution timestamp to each received LoRa data packet. Each base station will report the time of arrival and supporting metadata enabling location solvers based on differential time of arrival (DTOA) algorithms to determine the end node position to the nearest block.
What Customers are saying about the LoRa Geolocation Solution:
"We've developed LoRa-based geolocation solutions, both base stations and software services, which are being implemented in our customers networks as we speak," said William Gouesbet, CEO of Kerlink. "Enabling the tracking of any LoRa sensor without increasing its bill of material or reducing the battery life is a major step forward in driving the IoT to its full potential."
"The new LoRa geolocation service will enrich the existing LoRa service. The ability to manage assets by knowing their locations will drive new business opportunities for existing and new organizations in the market. The LoRa geolocation service will further optimize processes, save costs, and help companies and governments in becoming smarter and more efficient," said Jasper Snijder, EVP New Business from KPN.
"Location is one of the most needed features in any LPWAN network however until now it required satellite based solutions which are cost prohibitive and drain the batteries faster," said Bart Van Den Meersche, Chief Enterprise Business Unit, Proximus. "We are confident our LoRa eco system partners will develop a whole new arena of solutions driving additional customer value with this groundbreaking network-centric geolocation option."
Key Features:
Low cost – All LoRa-enabled end nodes are supported natively, which eliminates any impact on the bill of materials.
Extremely power efficient – Network-derived geolocation does not require any additional processing on the end node maintaining the standard extremely low power consumption of LoRa.
Optimal security – Over-the-air messages do not contain any positioning information. On top of the standard 128 bits AES encryption, this prohibits access to, or vulnerability of, asset or personal geolocation information.
资源
关于 Semtech
Semtech Corporation is a leading supplier of analog and mixed-signal semiconductors for high-end consumer, computing, communications and industrial equipment. Products are designed to benefit the engineering community as well as the global community. The company is dedicated to reducing the impact it, and its products, have on the environment. Internal green programs seek to reduce waste through material and manufacturing control, use of green technology and designing for resource reduction. Publicly traded since 1967, Semtech is listed on the NASDAQ Global Select Market under the symbol SMTC. For more information, visit www.semtech.com.
前瞻性声明和警戒性声明
All statements contained herein that are not statements of historical fact, including statements that use the words "expected," "project," "will," "should" or other similar words or expressions, that describe Semtech Corporation's or its management's future plans, objectives or goals are "forward-looking statements" and are made pursuant to the Safe-Harbor provisions of the Private Securities Litigation Reform Act of 1995, as amended. Such forward-looking statements involve known and unknown risks, uncertainties and other factors that could cause the actual results of Semtech Corporation to be materially different from the historical results and/or from any future results or outcomes expressed or implied by such forward-looking statements. Such factors are further addressed in Semtech Corporation's annual and quarterly reports, and in other documents or reports, filed with the Securities and Exchange Commission (www.sec.gov) including, without limitation, information under the captions "Management's Discussion and Analysis of Financial Condition and Results of Operations" and "Risk Factors". Semtech Corporation assumes no obligation to update any forward-looking statements in order to reflect events or circumstances that may arise after the date of this release, except as required by law.
Semtech, the Semtech logo, LoRa and LoRaWAN are registered trademarks or service marks, or trademarks or service marks, of Semtech Corporation and/or its affiliates. Third-party trademarks or service marks mentioned herein are the property of their respective owners.