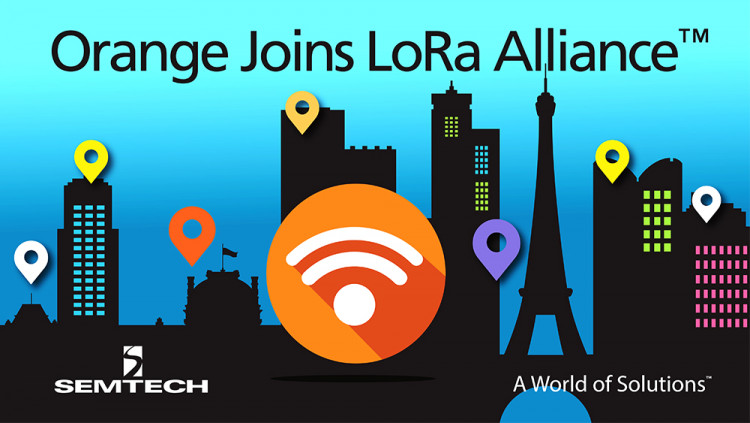 Semtech Welcomes Leadership from Global Operator Orange in Setting Open Standards for IoT Networks in Europe
Orange joins LoRa™ Alliance Board with Semtech and other Alliance members to drive the global success of the LoRaWAN™ protocol for LPWANs
Camarillo, California - May 23, 2016 -
Semtech Corporation (Nasdaq: SMTC), a leading supplier of analog and mixed-signal semiconductors, today announced that the open LoRaWAN™ networking protocol, used in low power, wide area networks (LPWANs) for Internet of Things (IoT) applications, took another step toward becoming a worldwide standard when Orange S.A., one of the largest mobile network operators in Europe, officially joined the board of the 300+ member LoRa™ Alliance.
In September 2015, Orange announced it would build a LPWAN network based on the LoRaWAN protocol to provide a foundation for a range of smart city IoT applications. Before making this decision, Orange tested the LoRaWAN protocol in Grenoble, France, with Semtech and more than 50 partner companies to ensure the network would provide the type of connectivity needed by customers to develop their own smart city applications and run them on the Orange network without having to build their own expensive infrastructure.
Orange is now joining Semtech and other Alliance board members, including IBM, Cisco, Bouygues Telecom, Actility, Augtek, Homerider, Kerlink, KPN, Proximus and Sagemcom, and Alliance members Schneider, Bosch, Murata, DU Emirates Integrated Telecom, Swisscom, Tata Telecommunications, Telkomsel and others to drive the global success of the LoRaWAN protocol, a global, carrier-grade LPWAN that provides long-range, low-power connectivity between sensors and base stations. The LoRaWAN protocol enables IoT innovation through an openly available specification, certified secure interoperability, open business models and a strong global ecosystem.
"We are happy that Orange has decided to join the board of the LoRa Alliance and become an active member in shaping the LoRaWAN open networking protocol and driving its adoption worldwide," said Marc Pegulu, Vice President and General Manager of Semtech's Wireless and Sensing Product Group. "Having someone on board with their type of networking expertise, leadership and reach into most European countries will help ensure that the various sensors, modules, base stations, networking components and software applications offered by the more than 300 member companies in the LoRa Alliance have a common communications protocol and work well together to provide customers with the solutions and network coverage they need for their IoT, machine-to-machine and smart city applications."
资源
关于 Semtech
Semtech Corporation is a leading supplier of analog and mixed-signal semiconductors for high-end consumer, computing, communications and industrial equipment. Products are designed to benefit the engineering community as well as the global community. The company is dedicated to reducing the impact it, and its products, have on the environment. Internal green programs seek to reduce waste through material and manufacturing control, use of green technology and designing for resource reduction. Publicly traded since 1967, Semtech is listed on the NASDAQ Global Select Market under the symbol SMTC. For more information, visit www.semtech.com.
前瞻性声明和警戒性声明
All statements contained herein that are not statements of historical fact, including statements that use the words "enable, " "ensure" or other similar words or expressions, that describe Semtech Corporation's or its management's future plans, objectives or goals are "forward-looking statements" and are made pursuant to the Safe-Harbor provisions of the Private Securities Litigation Reform Act of 1995, as amended. Such forward-looking statements involve known and unknown risks, uncertainties and other factors that could cause the actual results of Semtech Corporation to be materially different from the historical results and/or from any future results or outcomes expressed or implied by such forward-looking statements. Such factors are further addressed in Semtech Corporation's annual and quarterly reports, and in other documents or reports, filed with the Securities and Exchange Commission (www.sec.gov) including, without limitation, information under the captions "Management's Discussion and Analysis of Financial Condition and Results of Operations" and "Risk Factors". Semtech Corporation assumes no obligation to update any forward-looking statements in order to reflect events or circumstances that may arise after the date of this release, except as required by law.
Semtech,the Semtech logo, LoRa and LoRaWAN are registered trademarks or service marks, or trademarks or service marks, of Semtech Corporation and/or its affiliates. Third-party trademarks or service marks mentioned herein are the property of their respective owners.