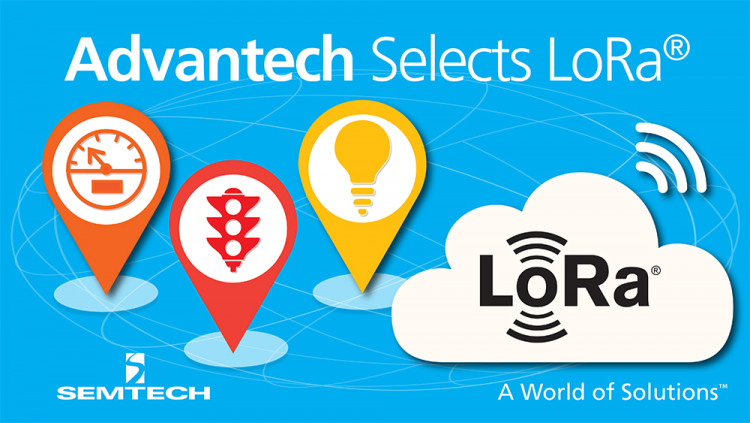 Semtech LoRa™ Wireless RF Technology Selected for Advantech's M2.COM Internet of Things Sensor Platform
Advantech to use Semtech LoRa technology to enable long-range RF connectivity for low power IoT applications with its open standard M2.COM sensor platform
Camarillo, California - May 25, 2016 -
Semtech Corporation (Nasdaq: SMTC), a leading supplier of analog and mixed-signal semiconductors, today announced that Advantech, a leading provider of embedded and automation products and solutions, has chosen to use Semtech LoRa™ technology to enable long-range RF connectivity with the new standardized M2.COM sensor platform.
The M2.COM platform is a module that combines wireless technology, a microcontroller unit (MCU) and networking capability with a standardized interface for sensors. Integrated LoRa technology will allow for longer range, lower power communication and connectivity into the low power, wide area networks (LPWANs) being deployed by telecom companies and other network service providers internationally.
Advantech, ARM, Bosch Sensortec and Sensirion, among others, launched M2.COM earlier this year to create an open and standardized sensor platform to simplify and accelerate Internet of Things (IoT) sensor applications for makers and sensor manufacturers. Target applications for M2.COM include outdoor wireless sensors, wireless measuring instruments such as CO2 meters and PH meters, agriculture moisture sensors, sensing/tracking devices for supply chain/logistics, and intelligent wireless controllers that allow remote management for things such as street lighting, traffic signals and waste management.
"In order to help our customers bring their IoT solutions to market faster, it is important for us to provide a standardized module interface with the flexibility to support a wide range of options for long range wireless connectivity," said Miller Chang, VP of Advantech Embedded Computing Group. "Semtech LoRa wireless RF technology is an ideal solution for customers that are looking to develop IoT applications that require a reliable long range wireless connection that uses very low power. It is also a great complement to the other wireless connectivity options available for our M2.COM platform."
"We are pleased that Advantech has chosen to include our LoRa wireless RF technology as one of the key ingredients in its M2.COM open platform," said Marc Pegulu, Vice President and General Manager of Semtech's Wireless and Sensing Product Group. "By combining wireless connectivity, MCU, and network connectivity into one standardized and integrated module platform, M2.COM will give developers the ability to create, test and bring their IoT applications to market much faster than a non-integrated approach."
资源
About Advantech
Founded in 1983, Advantech is a leader in providing trusted, innovative products, services, and solutions. Advantech offers comprehensive system integration, hardware, software, customer-centric design services, embedded systems, automation products, and global logistics support. We cooperate closely with our partners to help provide complete solutions for a wide array of applications across a diverse range of industries. Our mission is to enable an intelligent planet with Automation and Embedded Computing products and solutions that empower the development of smarter working and living. With Advantech, there is no limit to the applications and innovations our products make possible. (Corporate Website: www.advantech.com).
关于 Semtech
Semtech Corporation is a leading supplier of analog and mixed-signal semiconductors for high-end consumer, computing, communications and industrial equipment. Products are designed to benefit the engineering community as well as the global community. The company is dedicated to reducing the impact it, and its products, have on the environment. Internal green programs seek to reduce waste through material and manufacturing control, use of green technology and designing for resource reduction. Publicly traded since 1967, Semtech is listed on the NASDAQ Global Select Market under the symbol SMTC. For more information, visit www.semtech.com.
前瞻性声明和警戒性声明
All statements contained herein that are not statements of historical fact, including statements that use the words "will," "enable," "allow" or other similar words or expressions, that describe Semtech Corporation's or its management's future plans, objectives or goals are "forward-looking statements" and are made pursuant to the Safe-Harbor provisions of the Private Securities Litigation Reform Act of 1995, as amended. Such forward-looking statements involve known and unknown risks, uncertainties and other factors that could cause the actual results of Semtech Corporation to be materially different from the historical results and/or from any future results or outcomes expressed or implied by such forward-looking statements. Such factors are further addressed in Semtech Corporation's annual and quarterly reports, and in other documents or reports, filed with the Securities and Exchange Commission (www.sec.gov) including, without limitation, information under the captions "Management's Discussion and Analysis of Financial Condition and Results of Operations" and "Risk Factors". Semtech Corporation assumes no obligation to update any forward-looking statements in order to reflect events or circumstances that may arise after the date of this release, except as required by law.
Semtech, the Semtech logo, LoRa and LoRaWAN are registered trademarks or service marks, or trademarks or service marks, of Semtech Corporation and/or its affiliates. Third-party trademarks or service marks mentioned herein are the property of their respective owners.