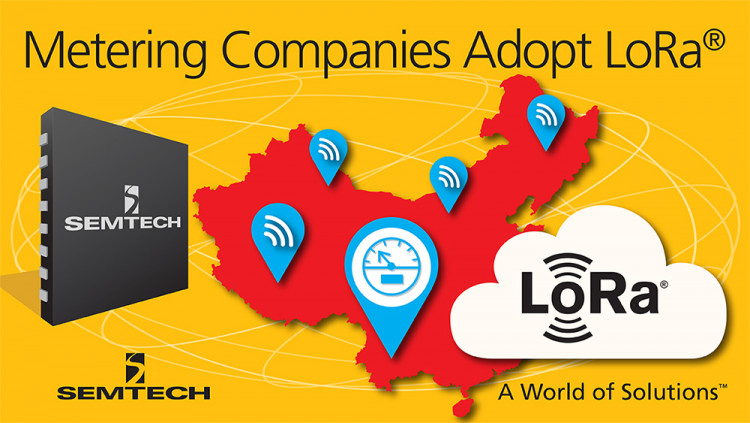 Semtech LoRa™ Wireless RF Technology Adopted by Metering Companies throughout China
LoRa RF technology's unique feature set offers cost-optimized, scalable solution for automated metering services
Camarillo, California - June 2, 2016 -
Semtech Corporation (Nasdaq: SMTC), a leading supplier of analog and mixed-signal semiconductors, announced today that its LoRa™ RF wireless technology has been widely adopted by many metering companies in China to scale metering deployments domestically and internationally. Metering companies in China were some of the early adopters of LoRa technology, and most of the major suppliers in the region design and ship LoRa-equipped meters to companies around the world
LoRa technology allows utility companies to receive information over much longer distances than traditional solutions with a highly optimized current consumption both with the physical communication layer and the LoRaWAN™ specification. In water and gas metering, this translates into a much lower deployment cost and lower end-node cost due to reduction in battery sizes. In electric metering, it is a solution to connect nodes, which are not reachable by mesh or PLC, or a solution for control and communication in the case of outages.
Many metering companies are looking to combine LoRa, PLC and Mesh technologies to provide redundant and optimized hybrid solutions for electricity meters in order to compensate for hard to reach nodes. LoRaWAN gives metering companies comprehensive coverage that is resilient to outages, remote locales and more.
"The development of smart meters in China has boomed in recent years and continues to grow with just under 90 million communicating meters shipped in 2015," said Jacob Pereira, Lead Smart Utility Infrastructure Analyst, for IHS. "It is the largest market in the world by volume and shows continued strength as smart technologies become increasingly popular."
"The overwhelming integration of LoRa technology into automatic metering reading (AMR) systems in China is very exciting," said Mike Wong, Vice President of Marketing and Applications for Semtech's Wireless and Sensing Product Group. "The technology, when paired with the standardized LoRaWAN specification and PLC infrastructure, gives a way to develop metering processes that are scalable, affordable and reliable."
Semtech recently announced the EV8600 dual modem (PLC+RF System-on-Chip) featuring LoRa wireless RF technology, the first fully integrated PLC and LoRa modem for smart grid, smart metering and IoT applications. The PLC+RF System-on-Chip with LoRa technology enables virtually 100 percent connectivity coverage with a single chip.
资源
关于 Semtech
Semtech Corporation is a leading supplier of analog and mixed-signal semiconductors for high-end consumer, computing, communications and industrial equipment. Products are designed to benefit the engineering community as well as the global community. The company is dedicated to reducing the impact it, and its products, have on the environment. Internal green programs seek to reduce waste through material and manufacturing control, use of green technology and designing for resource reduction. Publicly traded since 1967, Semtech is listed on the NASDAQ Global Select Market under the symbol SMTC. For more information, visit www.semtech.com.
前瞻性声明和警戒性声明
All statements contained herein that are not statements of historical fact, including statements that use the words "offers," "allows," "looking to," "to develop," or other similar words or expressions, that describe Semtech Corporation's or its management's future plans, objectives or goals are "forward-looking statements" and are made pursuant to the Safe-Harbor provisions of the Private Securities Litigation Reform Act of 1995, as amended. Such forward-looking statements involve known and unknown risks, uncertainties and other factors that could cause the actual results of Semtech Corporation to be materially different from the historical results and/or from any future results or outcomes expressed or implied by such forward-looking statements. Such factors are further addressed in Semtech Corporation's annual and quarterly reports, and in other documents or reports, filed with the Securities and Exchange Commission (www.sec.gov) including, without limitation, information under the captions "Management's Discussion and Analysis of Financial Condition and Results of Operations" and "Risk Factors". Semtech Corporation assumes no obligation to update any forward-looking statements in order to reflect events or circumstances that may arise after the date of this release, except as required by law.
Semtech, the Semtech logo, LoRa and LoRaWAN are registered trademarks or service marks, or trademarks or service marks, of Semtech Corporation and/or its affiliates. Third-party trademarks or service marks mentioned herein are the property of their respective owners.