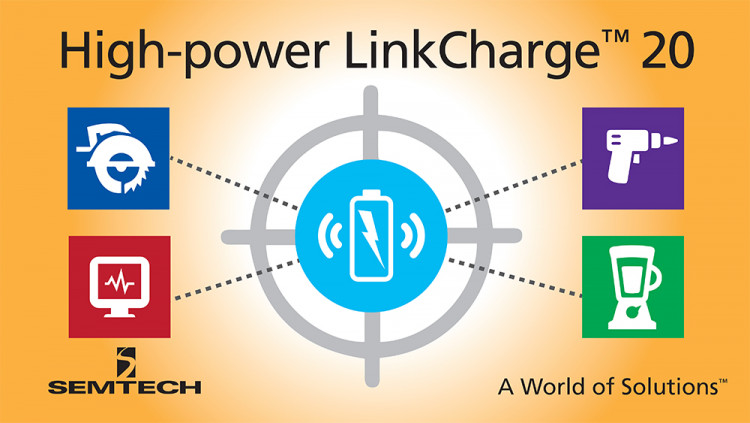 Semtech Expands LinkCharge™ Wireless Charging Platform to High-Power Industrial Applications
The LinkCharge 20 Series is the only inductive wireless charging system beyond 15 watts that is currently available
Camarillo, California - December 13, 2016 -
Semtech Corporation (Nasdaq:SMTC), a leading supplier of analog and mixed-signal semiconductors, today announced the availability of the new LinkCharge 20 Series, including two high-power wireless charging transmitter and receiver evaluation platforms for industrial applications supporting up to 20 watts of power. LinkCharge 20 evaluation platforms are available immediately through Semtech's distribution channel.
The LinkCharge 20 Series offers two evaluation modules: a transmitter and receiver that utilize magnetic, inductive-based wireless charging technology. LinkCharge 20 is the only currently available inductive wireless charging system that supports up to 20 watts of power output by using a proprietary protocol for communication between the transmitter and the receiver. Industrial equipment manufacturers can use the LinkCharge 20 to test wireless power in next-generation applications such as power tools, appliances, medical instruments and automation systems.
"LinkCharge 20 is specifically tailored to industrial applications, a sub-segment of the wireless charging market that requires high power transmission and receiving," said Ruwanga Dassanayake, Product Line Manager for Semtech's Power and High Reliability Products Group. "Semtech's broad portfolio of wireless charging products includes the only available inductive solution beyond 15 watts, making Semtech solutions scalable from low- to medium- to high-power applications."
Key Features of the LinkCharge 20 Series:
Only inductive wireless charging technology currently available that supports up to 20 watts of output power using proprietary communication protocol
High DC-DC efficiency at 85 percent
Flexible, programmable firmware-based solution for quicker time-to-market and to accommodate the evolution of industry standards
About Semtech's Innovative LinkCharge Platform
Semtech's LinkCharge wireless charging platform provides a range of solutions to enable wireless power in next-generation products for consumers, infrastructure and industrial applications. It includes the LinkCharge 20 Series and the recently announced LinkCharge CT (counter top), an out-of-box-ready infrastructure wireless charging system for use in public, enterprise and consumer settings. The LinkCharge platform is compatible with all major industry standards ensuring end products can quickly charge any wireless charging-equipped device even as the industry adoption continues to grow and evolve. More information about LinkCharge 20, LinkCharge CT and the rest of Semtech's wireless charging solutions is available at www.semtech.com/wireless-charging.
Ordering Information
The LinkCharge 20 Series, TSDMTX-19V2-EVM and TSDMRX-19V/20W-EVM, is available through Semtech's distribution channel. Contact a Semtech sales representative for volume pricing and lead times at www.semtech.com/info.
资源
Learn more about Semtech Wireless Charging Technology: www.semtech.com/wireless-charging
Contact Semtech's support team for technical support.
Sign up for Semtech's e-newsletter Inside Circuit for quarterly product updates
关于 Semtech
Semtech Corporation is a leading supplier of analog and mixed-signal semiconductors for high-end consumer, enterprise computing, communications, and industrial equipment. Products are designed to benefit the engineering community as well as the global community. The Company is dedicated to reducing the impact it, and its products, have on the environment. Internal green programs seek to reduce waste through material and manufacturing control, use of green technology and designing for resource reduction. Publicly traded since 1967, Semtech is listed on the Nasdaq Global Select Market under the symbol SMTC. For more information, visit www.semtech.com.
前瞻性声明和警戒性声明
All statements contained herein that are not statements of historical fact, including statements that use the words "designed to," or other similar words or expressions, that describe Semtech Corporation's or its management's future plans, objectives or goals are "forward-looking statements" and are made pursuant to the Safe-Harbor provisions of the Private Securities Litigation Reform Act of 1995, as amended. Such forward-looking statements involve known and unknown risks, uncertainties and other factors that could cause the actual results of Semtech Corporation to be materially different from the historical results and/or from any future results or outcomes expressed or implied by such forward-looking statements. Such factors are further addressed in Semtech Corporation's annual and quarterly reports, and in other documents or reports, filed with the Securities and Exchange Commission (www.sec.gov) including, without limitation, information under the captions "Management's Discussion and Analysis of Financial Condition and Results of Operations" and "Risk Factors." Semtech Corporation assumes no obligation to update any forward-looking statements in order to reflect events or circumstances that may arise after the date of this release, except as required by law.
Semtech and the Semtech logo are registered trademarks or service marks of Semtech Corporation and/or its affiliates.