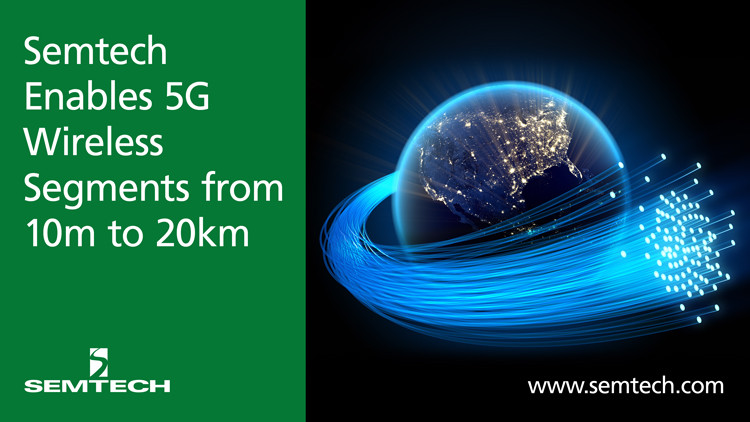 Semtech Enables 5G Wireless Segments at Distances from 10m to 20km
带集成式驱动器、TIA 和 ROSA 的 ClearEdge® CDR 可支持一流的 5G 模块
圣地亚哥,2019 年 OFC ,2019 年 3 月 4 日 – 领先的高性能模拟和混合信号半导体产品以及先进算法供应商 Semtech Corporation(纳斯达克股票代码:SMTC)宣布推出其完整的 IC 产品组合 ClearEdge®和 FiberEdge™。这些产品针对用于 5G 无线应用的光收发器进行了优化。
"Semtech is one of the leading suppliers of ICs for Optical Transceivers used in 4G wireless applications and we now look forward to playing a leading role in enabling 5G. It is our mission to help customers succeed with highly innovative products for this emerging market," said Gary Beauchamp, Executive Vice President and General Manager for Semtech's Signal Integrity Products Group. "Our complete portfolio of ICs deliver best-in-class technical performance and commercial value and will enable the wide range of optical transceivers needed in 5G deployments."
The unprecedented and strategic nature of 5G has come into sharp focus in recent months and 5G deployments are expected to accelerate throughout 2019. Apart from being faster and more reliable, 5G wireless networks are transforming how devices connect to the Internet and with each other. 5G enables key markets such as virtual reality, autonomous vehicles, Internet of Things (IoT), and other applications requiring high throughput, massive network connectivity and ultra-low-latency for real-time operations. With higher amounts of mobile data, 5G wireless networks require higher speed wired interconnect. Key components of these wireline networks are optical transceiver modules capable of supporting industrial temperature range for distances starting from 10m to over 20km.
Semtech 凭借其 ClearEdge 平台 (GN2139C CDR) 助力启动旗舰 5G 部署,现正提供集成式的 PHY/PMD 解决方案。ClearEdge 技术使模块供应商能够开发全面优化的下一代光收发器。
"We believe WDM will be an important segment for 5G in Korea and Japan, while Tunable and DML based modules will be critical for China market. Europe and North America will utilize existing wireless architecture that requires multi-mode fiber optical modules. We look forward to supporting our customers today and tomorrow with a highly differentiated IC portfolio," said Dr. Timothy Vang, VP of Marketing and Applications for Semtech's Signal Integrity Products Group.
Semtech's 5G wireless portfolio includes:
ClearEdge CDR GN2139C
ClearEdge GN2139C 是一款双向 CDR
Used in applications such as 5G wireless 300m / 10km / 20km modules 
24-26.5Gb/s and i-Temp support 
3.5mm x 5.5mm CSP package
Low power of <100mW / lane to enable <1W module
出色的输入抖动容差和输出抖动性能
ClearEdge CDR GN2148 / 49
ClearEdge GN2148 is a CDR with VCSEL laser driver
ClearEdge GN2149 是一款带 TIA 的 CDR
The GN2148 and GN2149 are available in compact 1.2mm x 2.9mm die size – and consume less than 200mW total power each respectively
Semtech's integrated chipset employs proprietary VCSEL compensation technology to enable low bandwidth VCSELs and extended reach beyond 150m OM3 fiber
The chipset supports data rates from 24.0Gb/s to 28.1Gb/s to enable a wide range of applications
ClearEdge CDR GN2142
ClearEdge GN2142 is a bi-directional CDR with DML laser driver
Used in applications such as 5G wireless 300m and 10km LR modules
Extended data rate (24.0Gb/s to 28.1Gb/s) and i-Temp support 
Enables <1W total module power when paired with Semtech's GN1086
Small die size of 3.20mm x 2.01mm 33-ball WLCSP package with a 0.4mm pitch
自适应 CTLE 可提高链路稳健性
ClearEdge CDR GN2146
ClearEdge GN2146 是一款带 EML/MZM 激光驱动器的双向 CDR
用于 5G 无线 10 km 和 20 km DWDM/可调模块等应用中
Extended data date (24.0Gb/s to 28.1Gb/s) and i-Temp support 
5 mm x 4 mm 的小核心面积以及集成式偏置三通器件,布局更方便
自适应 CTLE 可提高链路稳健性
FiberEdge GN1086
FiberEdge GN1086 是一款低功耗、高性能的 24-28Gb/s TIA
95 mW 的典型低功耗 — 与 GN2142 配合时,支持小于 1 W 的模块
PIN 和 APD 实现的行业领先性能 — 1.25 uArms 噪声和 3 mApp 过载
RSSI support and i-temp
1.52 mm x 1.1 mm 的小核心面积
GN3272 ROSA
GN3272 是一款采用 TO-46 同轴封装形式的低功耗、高性能 PIN 型 ROSA
95mW typical power enables <1W module power when paired with ClearEdge CDR GN2142
Industry's best sensitivity and RF stability
工作温度范围 -40°C 至 90°C
About Semtech's Optical Products
Semtech's optical networking product platforms provide high-performance signal integrity for optical module solutions used by leading companies in the data center/enterprise networking, wireless infrastructure and passive optical network/Fiber to the X markets. For more information, visit https://www.semtech.com/products/signal-integrity.
关于 Semtech
Semtech Corporation is a leading supplier of high performance analog and mixed-signal semiconductors and advanced algorithms for high-end consumer, enterprise computing, communications, and industrial equipment. Products are designed to benefit the engineering community as well as the global community. The Company is dedicated to reducing the impact it, and its products, have on the environment. Internal green programs seek to reduce waste through material and manufacturing control, use of green technology and designing for resource reduction. Publicly traded since 1967, Semtech is listed on the Nasdaq Global Select Market under the symbol SMTC. For more information, visit www.semtech.com.
前瞻性声明和警戒性声明
All statements contained herein that are not statements of historical fact, including statements that use the words "will," "expected to," "designed to," or other similar words or expressions, that describe Semtech Corporation's or its management's future plans, objectives or goals are "forward-looking statements" and are made pursuant to the Safe-Harbor provisions of the Private Securities Litigation Reform Act of 1995, as amended. Such forward-looking statements involve known and unknown risks, uncertainties and other factors that could cause the actual results of Semtech Corporation to be materially different from the historical results and/or from any future results or outcomes expressed or implied by such forward-looking statements. Such factors are further addressed in Semtech Corporation's annual and quarterly reports, and in other documents or reports, filed with the Securities and Exchange Commission (www.sec.gov) including, without limitation, information under the captions "Management's Discussion and Analysis of Financial Condition and Results of Operations" and "Risk Factors." Semtech Corporation assumes no obligation to update any forward-looking statements in order to reflect events or circumstances that may arise after the date of this release, except as required by law.
Semtech、Semtech 徽标和 ClearEdge 是 Semtech Corporation 或其附属公司的注册商标或服务标志,FiberEdge 是 Semtech Corporation 或其附属公司的商标或服务标志。
SMTC-P
###