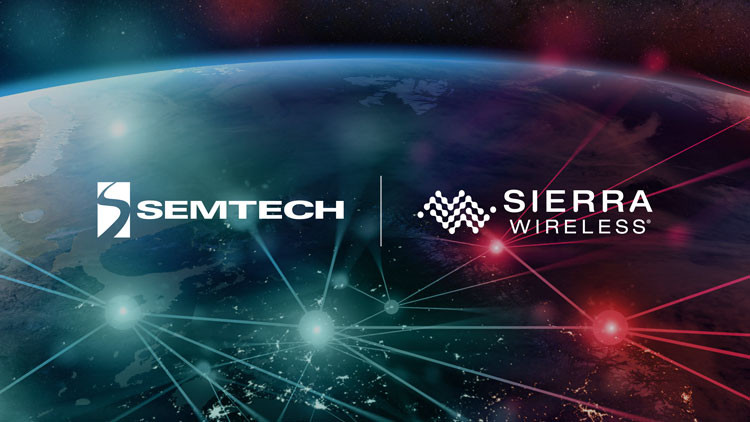 Semtech Corporation 已完成对 Sierra Wireless 的收购
Creating a comprehensive Internet of Things (IoT) platform to enable the transformation to a smarter, more sustainable planet
Transaction brings together the ultra-low power benefits of LoRa® with higher bandwidth capabilities of cellular to create a new Internet of Things (IoT) Cloud-to-chip systems leader
Semtech expects its IoT market opportunity to expand by approximately 10x to US$10 billion by 2027
CAMARILLO, Calif., and Vancouver, British Columbia, January 12, 2023 – Semtech Corporation (Nasdaq: SMTC) and Sierra Wireless, Inc. (Nasdaq: SWIR) (TSX: SW) today announced the completion of Semtech's acquisition of Sierra Wireless in an all-cash transaction representing a total enterprise value of approximately US$1.2 billion. This transaction nearly doubles Semtech's annual revenue and adds approximately US$100 million of high-margin IoT Cloud services recurring revenues. Semtech expects the acquisition to be immediately accretive to non-GAAP EPS and to generate US$40 million of run rate operational synergies within 12-18 months post close.
"Sierra Wireless brings nearly 30 years of leadership in cellular IoT and a strong and diverse device-to-Cloud IoT solutions portfolio. Combined with Semtech's LoRa-enabled end nodes, we believe we are very well positioned to deliver a highly differentiated, end-to-end platform to enable the transformation to a smarter, more sustainable planet," said Mohan Maheswaran, Semtech's president and chief executive officer. "Our combined company will have strong expertise in high bandwidth cellular connectivity, ultra-low power LoRa connectivity, IoT software and services, and extensive knowledge of IoT hardware and software channels and vertical markets. We believe that Semtech is uniquely positioned to deliver a strong product portfolio and service model to customers across high growth IoT segments."
Former Sierra Wireless senior leaders join the Semtech leadership team in two newly formed business groups. Tom Mueller joins as executive vice president of the IoT System Products Group, which includes Semtech's existing LoRa products business. Ross Gray joins as vice president of the IoT Connected Services Group. Pravin Desale also joins Semtech as the senior vice president of IoT Engineering driving product development of our new systems and solutions.
13548597 Canada Inc., a wholly owned subsidiary of Semtech Corporation, has acquired all of the outstanding common shares of Sierra Wireless, Inc. for US$31 per share by way of statutory plan of arrangement. Consideration for the purchased shares has been paid to Computershare Investor Services Inc., as depositary under the arrangement, and will be provided to former shareholders as soon as reasonably practicable after the date hereof, in accordance with the terms of the arrangement agreement. As a result of the completion of the transaction, Sierra Wireless' common shares will be delisted from the Toronto Stock Exchange. Sierra Wireless has requested that The Nasdaq Stock Market ("Nasdaq") file a delisting application on Form 25 to report the delisting of the common shares of Sierra Wireless from Nasdaq. An application will be made for Sierra Wireless to cease to be a reporting issuer in the applicable Canadian jurisdictions as a result of completion of the arrangement. Sierra Wireless expects to terminate the registration of its common shares under the U.S. Securities Exchange Act of 1934, as amended, approximately 10 days after the closing of the transaction.
Investor Deck
For more information, please see a new investor deck on Semtech's investor website.
Advisors
J.P. Morgan Securities LLC served as the exclusive financial advisor to Semtech. O'Melveny & Myers LLP served as its U.S. legal counsel and Stikeman Elliott LLP as its Canadian legal counsel. Davis Polk & Wardwell LLP served as Semtech's financing counsel.
Qatalyst Partners and BMO Capital Markets served as financial advisors to Sierra Wireless. Skadden, Arps, Slate, Meagher & Flom LLP served as its U.S. legal counsel and Blake, Cassels & Graydon LLP as its Canadian legal counsel.
关于 Semtech
Semtech Corporation (Nasdaq: SMTC) is a high-performance semiconductor, IoT systems and Cloud connectivity service provider dedicated to delivering high quality technology solutions that enable a smarter, more connected and sustainable planet. Our global teams are dedicated to empowering solution architects and application developers to develop breakthrough products for the infrastructure, industrial and consumer markets. To learn more about Semtech technology, visit us at Semtech.com or follow us on LinkedIn or Twitter. 
SMTC-F
前瞻性声明和警戒性声明
This press release contains "forward-looking statements" within the meaning of the "safe harbor" provisions of the Private Securities Litigation Reform Act of 1995, as amended ("forward-looking statements"), and is based on management's current expectations, estimates and projections regarding future events. Forward-looking statements are statements other than historical information or statements of current condition and, as used in this press release, relate to matters such as, among others, Semtech's outlook or expectations regarding the acquisition of Sierra Wireless, the consequences of integrating Sierra Wireless, the synergies and other benefits to be realized from the transaction, including the impact on Semtech's revenues, non-GAAP EPS, IoT SAM and addressable market, and Semtech's ability to grow its business, optimize its product portfolio and achieve its sustainability goals. Statements containing words such as "may," "believes," "anticipates," "expects," "intends," "plans," "projects," "estimates," "should," "will," "designed to," or "projections," or other similar expressions also constitute forward-looking statements.
Forward-looking statements involve known and unknown risks, uncertainties and other factors that could cause actual results and events to differ from those expressed or implied by such forward-looking statements. Potential factors that could cause actual results to differ materially from those in the forward-looking statements include, but are not limited to the inherent risks, costs and uncertainties associated with integrating the businesses successfully and risks of not achieving all or any of the anticipated benefits of the transaction, or the risk that the anticipated benefits of the transaction may not be fully realized or take longer to realize than expected; future responses to and effects of the ongoing COVID-19 pandemic or other similar health crises; export restrictions and laws affecting Semtech's trade and investments, and tariffs or the occurrence of trade wars; worldwide economic and political disruptions, including as a result of inflation and the current conflict between Russia and Ukraine; competitive changes in the marketplace including, but not limited to, the pace of growth or adoption rates of applicable products or technologies; downturns in the business cycle; decreased average selling prices of Semtech's products; Semtech's reliance on a limited number of suppliers and subcontractors for components and materials; changes in projected or anticipated end-user markets; Semtech's ability to forecast and achieve anticipated net sales and earnings estimates in light of periodic economic uncertainty, including impacts arising from Asian, European and global economic dynamic; and the additional risk factors set forth in Semtech's Annual Report on Form 10-K filed with the Securities and Exchange Commission (the "SEC") (www.sec.gov) on March 16, 2022, as such risk factors may be updated, amended or superseded from time to time by subsequent reports that Semtech files with the SEC, and Sierra Wireless' Annual Information Form included as part of Sierra Wireless' Form 40-F filed with the SEC on March 18, 2022 and available under Sierra Wireless' profile on SEDAR (www.sedar.com). These forward-looking statements are made as of the date of this press release and Semtech and Sierra Wireless assume no obligation to update any forward-looking statements in order to reflect events or circumstances that may arise after the date of this release, except as required by law.
Semtech, the Semtech logo and LoRa are registered trademarks or service marks of Semtech Corporation or its subsidiaries.
"Sierra Wireless"是 Sierra Wireless, Inc. 的注册商标。本文提到的其他产品或服务名称可能是其各自所有者的商标。
###